Oklahoma Beetle Biota

102 beetle families and over 1,471 species treated here*
Return to Oklahoma Entomology - Compiled by Mike Quinn
---
Photographs here represent about a third of the recorded and a fifth of the projected number of Oklahoma beetles.
Photos included here based on surveys I conducted in Oklahoma as well as from lists compiled by
CSU
,
KHS
and
OSU
*Note, while 1,470 beetle spp. may sound like a lot, it's less than half the number of spp.
KHS
found in just one county in OK.
Specimens shown here curated in the following collections:
C.A. Triplehorn Insect Collection
- Columbus, OH
Eastern Oklahoma State College
-
Wilburton, OK
The Field Museum - Chicago, IL

Florida State Collection of Arthropods
-

Gainesville, FL
Louisiana State Arthropod Museum - Baton Rouge, LA

Sam Noble Oklahoma Museum
- Norman, OK
Texas A&M University Insect Collection
- College Station, TX
University of Oklahoma Biological Station
- Kingston, OK
University of Texas Insect Collection
- Austin, TX
Plus the
EGRC
and a number of other private collections.
---
ARCHOSTEMATA

Cupedidae - Reticulated Beetles
---
Micromalthidae - Telephone-pole Beetles
---
MYXOPHAGA

Sphaeriusidae - Minute Bog Beetles
=
---
ADEPHAGA

Rhysodidae - Wrinkled Bark Beetles
---
Carabidae - Ground Beetles

=
=
=
=
=
=
Harpalinae

Supertribe Pterostichitae
Chlaeniini - Vivid Metallic Ground Beetles
=
=
=
=
=
=
=
=

=
=
=
=
=
=
Helluonini - Flat-horned Ground Beetles
=
---
Dytiscidae - Predaceous Diving Beetle
---
Gyrinidae - Whirligig Beetles
---
Haliplidae - Crawling Water Beetles
---
Noteridae - Burrowing Water Beetles
---
HYDROPHILOIDEA
Hydrophilidae - Water Scavenger Beetles
---
Histeridae - Clown Beetles
=
=
---
STAPHYLINOIDEA
Hydraenidae - Minute Moss Beetles
---
Ptiliidae - Featherwing Beetles
---
Leiodidae - Round Fungus Beetles

---
Silphidae - Carrion Beetles
=
---
Staphylinidae - Rove Beetles
Megalopsidiinae - Mega-scale Rove Beetles

Osoriinae - Unmargined Rove Beetles
Oxytelinae - Spiny-legged Rove Beetles
Pselaphinae - Ant-loving Beetles
Scaphidiinae - Shining Fungus Beetles
Scydmaeninae - Ant-like Stone Beetles
Staphylininae - Large Rove Beetles
Tachyporinae - Crab-like Rove Beetles
=
---
SCARABAEOIDEA
Lucanidae - Stag Beetles
=
=
=
=
---
Passalidae - Bess Beetles
=
=
=
---
Trogidae - Hide Beetles
=
=
---
Geotrupidae - Earth-Boring Scarab Beetles
=
=
=
=
---
Ochodaeidae - Sand-loving Scarab Beetles
=
---
Hybosoridae - Scavenger Scarab Beetles
=
=
---
Scarabaeidae - Scarab Beetles
Aphodiinae - Aphodiine Dung Beetles
Scarabaeinae - Dung Beetles
=
=
=
Melolonthinae - June Bugs
Phyllophaga (Phyllophaga)
Rutelinae - Shining Leaf Chafers
=
=
=
Dynastinae - Rhinoceros Beetles
=
=
=
=
=
=
Cetoniinae - Fruit and Flower Chafers
=
=
---
SCIRTOIDEA
Eucinetidae - Plate-thigh Beetles
---
Scirtidae - Marsh Beetles
=
---
DASCILLOIDEA
Rhipiceridae - Cicada Parasite Beetles
=
---
BUPRESTOIDEA
Buprestidae - Metallic Wood-boring Beetles (see also: TX Bups)
=
=
=
=
---
BYRRHOIDEA
Byrrhidae - Pill or Moss Beetles
=
---
Elmidae - Riffle Beetles
---
Dryopidae - Long-toed Water Beetles
---
Lutrochidae
- Travertine Beetles
---
Limnichidae - Minute Marsh-loving Beetles
---
Heteroceridae - Variegated Mud-loving Beetles
---
Psephenidae - Water Penny Beetles
=
=
---
Ptilodactylidae - Toe-winged Beetles
---
Chelonariidae - Turtle Beetles
---
Callirhipidae - Callirhipid Cedar Beetles
=
---
ELATEROIDEA
Artematopodidae - Soft-bodied Plant Beetles
---
Cerophytidae - Rare Click Beetles
---
Eucnemidae - False Click Beetles
---
Throscidae - Small False Click Beetles
---
Elateridae - Click Beetles
=
=
---
Lycidae - Net-winged Beetles
=
=
=
---
Phengodidae - Glowworm Beetles
---
Lampyridae - Fireflies (see also, TX Fireflies)

---
Cantharidae - Soldier Beetles
=
---
DERODONTOIDEA
Derodontidae - Tooth-necked Fungus Beetles
---
BOSTRICHOIDEA
Dermestidae - Skin Beetles
---
Bostrichidae - Horned Powder-post Beetles
=
=
=
---
Family Anobiidae (or Ptinidae) - Death-watch and Spider Beetles
Ptininae - Spider Beetles
=
=
=
=
=
=
=
---
LYMEXYLONOIDEA
Lymexylidae - Ship-timber Beetles
---
CLEROIDEA
Trogossitidae - Bark-gnawing Beetles
=
---
Cleridae - Checkered Beetles (see also: TX Clerids)
=
=
=
---
Melyridae - Soft-winged Flower Beetles
=
---
CUCUJOIDEA
Sphindidae - Cryptic Slime Mold Beetles
---
Kateretidae - Short-winged Flower Beetles
---
Nitidulidae - Sap-feeding Beetles
---
Monotomidae - Root-eating Beetles
---
Silvanidae - Silvanid Flat Bark Beetles
---
Passandridae - Parasitic Flat Bark Beetles
---
Cucujidae - Flat Bark Beetles
=
---
Laemophloeidae - Lined Flat Bark Beetles
=
---
Phalacridae - Shining Flower Beetles
---
Cryptophagidae - Silken Fungus Beetles
---
Erotylidae - Pleasing Fungus Beetles
Languriini - Lizard Beetles
---
Byturidae - Fruitworm Beetles
---
Biphyllidae - False Skin Beetles
---
Bothrideridae - Dry Bark Beetles
---
Cerylonidae - Minute Bark Beetles
---
Euxestidae - 'Well Polished' Beetles (former subfamily of Cerylonidae)

---
Endomychidae - Handsome Fungus Beetles
=
=
---
Anamorphidae - 'Without Form' Beetles (former subfamily of Endomychidae)
---
=
=
=
=
=
=
=
=
=
=
=
=
=
=
=
=
=
=
=
=
=
=
=
=
=
=
=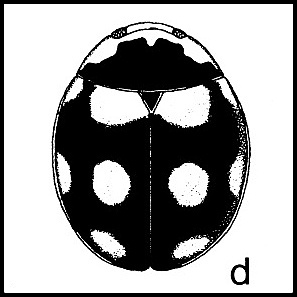 =
=
=
=
=
=
=
=
---
Corylophidae - Minute Hooded Beetles
---
Latridiidae - Minute Brown Scavenger Beetles
---
TENEBRIONOIDEA
Mycetophagidae - Hairy Fungus