Beetles of the South Texas Sand Plains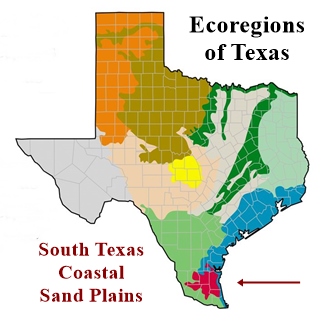 The coastal sand plains of south Texas harbor some interesting beetles.
Below are some species that are mostly found in this unique region.
Return to Texas Entomology
- Compiled by
Mike Quinn
---

Global Biodiversity Information Facility | GBIF - Seminal site for species distribution data


Bousquet, Y. 2012. Catalogue of Geadephaga (Coleoptera, Adephaga) of America, north of Mexico. ZooKeys 245: 1–1722.

Hovore, F.T., R.L. Penrose & R.W. Neck. 1987. The Cerambycidae, or longhorned beetles, of southern Texas: a faunal survey (Coleoptera). Proceedings of the California Academy of Sciences, 44(13): 283-334, 20 figs.


Riley, E.G. and C.S. Wolfe. 2003. An annotated checklist of the Scarabaeoidea of Texas. Southwestern Entomologist, Supplement, no. 26. 37 pp.
---
26 Sept 2019 © Mike Quinn / entomike@gmail.com / Texas Entomology