Natural and Cultural History of the
Lower Rio Grande Valley of Texas
Return to Texas Entomology - Compiled by Mike Quinn
---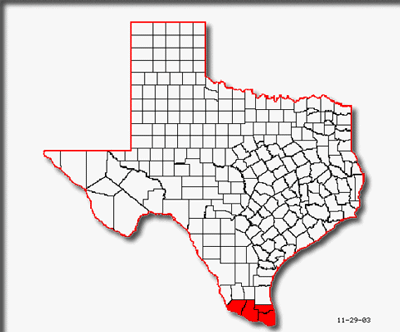 The Lower Rio Grande Valley (LRGV) of Texas
---
RGV Butterflies
An approximately equal number of butterflies have been recorded in this tiny region
as has been recorded in all of eastern North America COMBINED!
Only three states (including Texas) have recorded more butterflies than the RGV
Aerial Photograph of Southern Hidalgo County
where most new U.S. records are recorded
For more information on the butterflies of this region,
see the NABA-South Texas website.
---
RGV Beetles
Similarly, the LRGV probably has the greatest concentration of "special" beetle species per unit area for anywhere in Texas.
Beetles of the Lower Rio Grande Valley
---
RGV Odonates
Odonata (Dragonflies and Damselflies) of the LRGV
---
RGV Natural History
The Lower Rio Grande Valley Biological Profile
Biology of the Rio Grande Border Region: A Bibliography
---
RGV Cultural History
The South Texas Border, 1900-1920 Photographs from the Robert Runyon Collection (Library of Congress)
Rio Grande Valley - Handbook of Texas Online
La Sal del Rey - Handbook of Texas Online
---
Historical RGV Maps
Cartography of the Lower Rio Grande
---
Border Fence News
---
02 Mar 2008 © Mike Quinn / entomike@gmail.com / Texas Entomology